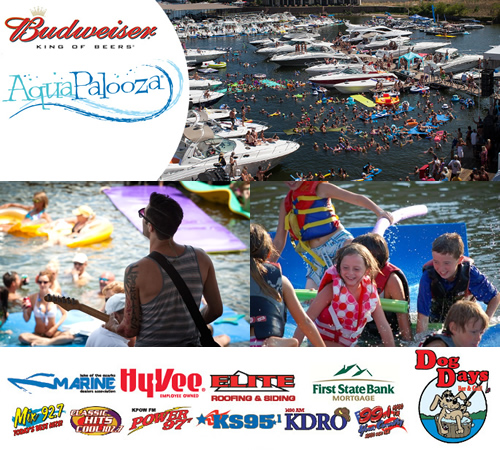 Join the crowd at the single largest one day boating event at Lake of the Ozarks. Benne Media, Today's Best Hits Mix 92.7, Classic Hits 102.7, Power 97.7, KS95.1, Lake of the Ozarks Business Journal, Boating Lake of the Ozarks Magazine, Dog Days Bar & Grill, and The Lake of the Ozarks Marine Dealers Association invite ALL BOATERS to Dog Days to join us for an afternoon filled with boating, family, friends, games, prizes and a FREE CONCERT WITH LIVE BANDS. 12-5.
NOW THROUGH SEPTEMBER 13, 2016
FREE RIDE GIVEAWAY. WIN ONE OF TWO MOTORCYCLES THIS YEAR!
KEEP LISTENING FOR WEEKLY REGISTRATION LOCATIONS AND FOLLOW US ON FACEBOOK, TWITTER AND INSTAGRAM FOR UPDATES.
JOIN COOL 102.7 AT THESE UPCOMING EVENTS
BIKE NIGHT - THIRD THURSDAY OF EVERY MONTH STARTS APRIL 21, 2016
Join us on the Bagnell Dam Strip each third Thursday of each month. Join in the fun of a poker walk, bounce from each participating Bar for your chance to win cash and donate to Lake area Buddy Pack Programs to benefit lake area children! T-shirt sales will benefit the Buddy Pack Program.
DOWNLOAD POSTER | DOWNLOAD T-SHIRT DESIGN | VISIT WEBSITE

2016 HOT SUMMER NIGHTS CRUISE
May 12 - June 10 - July 8th - August 12 - September 9
Cruisin' on the Bagnell Dam Strip in Lake Ozark, MO


Free Admission & Participation for Missouri's top family friendly cruise event!
All makes and models of cars, trucks and motorcycles are welcome!
Great food, fun and shopping!
Helicopter rides, music and entertainment from 6pm-11pm!
Clowns, facepainting and more for the kids!

22ND ANNUAL THREE RIVERS RUN - JULY 20, 2016

An adventurous 240 mile personal watercraft run that begins on the Osage River below Bagnell Dam, continues down the Missouri & Mississippi Rivers, then ends at the St. Louis Arch.  The entry fee is $750 which includes all fuel, oil, lunch and post-party celebration.  This is a fun-filled day on the water that you won't want to miss!  Raffle tickets may be sold for $20 each to assist participants in raising the entry fee.  This year the prize for the raffle is a 2015 Sea-Doo Spark and trailer valued at $8,239 donated by Yacht Club Powersports.  Rider registration, silent auction and raffle ticket drawing will be held Tuesday, July 19th at 6:00 pm at Dog Days. Proceeds benefit the Tri-County YMCA. Tickets can be obtained at your Tri-County YMCA, Yacht Club Powersports, KLOZ/K QUL Radio Station, Dog Days or Wobbly Boots. For more information call: 573-348-9230 or email

bjacobi@lakeymca.org

or visit

www.lakeymca.org

.

Men's Arizona Cardinals '47 Brand Charcoal Westend Cuffed Knit Hat,Women's Houston Texans Majestic Gray Better Believe Raglan T-Shirt,New York Giants Youth Game Day 3-Pack T-Shirt Set - Royal Blue/White/Gray Cheap Dallas Cowboys Jerseys For Sale.Women's Baltimore Ravens Joe Flacco Majestic Purple Draft Him IV T-Shirt,Tennessee Titans The Northwest Company Soft & Cozy 3-Piece Full Bed Set.Kansas City Chiefs McArthur Black Mini Day Pack,Men's Pittsburgh Steelers Mitchell & Ness Gray Marble Fill Crew Sweatshirt,Men's Dallas Cowboys Navy 3-4 Defense Flex Hat.Mens New York Jets Antigua Green Delta Quarter Zip Pullover Jacket,Men��s Green Bay Packers Mitchell & Ness Gray Title Holder Vest.Men's New England Patriots New Era Navy/Red 2-Tone Cuffed Knit Hat,Women's New Orleans Saints Pro Line Gray Reversible Jacket Cheap Dallas Cowboys Brandon Weeden Jersey.Women's San Diego Chargers Pro Line White Powder Puff Long Sleeve T-Shirt,Zubaz New England Patriots Youth Navy Double Edge T-Shirt,Women's Green Bay Packers '47 Green Clutch Tank Top.Girls Infant Chicago Bears Navy/White/Pink 3-Pack Bodysuit,Denver Broncos Diamond Plate Chrome Wall Clock,Pro Line New York Giants Women's Quilted Vessel Full Zip Jacket - Gray Wholesale Dallas Cowboys Jersey 2016 Cheap.Men's Oakland Raiders Nike Black Wordmark T-Shirt,Women's Minnesota Vikings Pro Line Gray Philips Henley 3/4-Sleeve T-Shirt,Men's Miami Dolphins Nike White Legend Staff Practice Long Sleeve Performance T-Shirt Wholesale Dallas Cowboys Jerseys Cheap

DOWNLOAD FLYER | VISIT WEBSITE | DOWNLOAD PROGRAM

ADDITIONAL 2016 EVENTS
Registration Locations:
Precision Auto in Osage Beach

Eldon Lanes

Ellis Battery in Camdenton

All 4 Gasco Propane locations